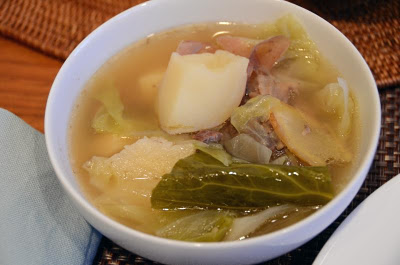 Nilaga literally means "boiled," and in Filipino it usually refers to a soupy dish of beef, pork, chicken and vegetables. I grew up with this dish being served for Sunday lunch, after coming home from Church, with my nanny setting aside the best part for me in a separate bowl: the sinful and deadly beef bone marrow that is stewed to gooey perfection. This is a great crockpot dish as the meat doesn't fall apart and the low temps allow for maximum flavor. Alternatively, boiling the ingredients until the meat is tender works well too, and is how this dish is traditionally served.
Nilagang Baka (Boiled Beef Soup)
2 pieces beef shin, bone-in (additional soup bones add to flavor)
1 medium onion, sliced
Sliced fresh ginger, the size of half an egg (really, you can't put too much ginger, its flavor is key)
1 cube beef bouillon or 1 can beef broth
2 large potatoes, cut into 1-1/2 inch cubes
Patis or fish sauce, to taste
½ head small cabbage, sliced
20-30 pieces string beans (optional)
Crockpot: Combine first five ingredients in a 4-quart slow cooker and fill with water until 1-1/2 to 2 inches from the brim. Set on low for 6-8 hours. Add cabbage and string beans in the last hour of cooking, or cook in separate pot and add to stew before serving. Season with fish sauce. 2-4 servings. Adding more ginger at the same time as the vegetables gives more flavor.
Conventional stove: Combine first four ingredients in a large pot and add water (depending on amount of soup desired), bring to a boil and simmer until beef is tender. Add potatoes and simmer until soft, season with patis. Add cabbage and string beans in last few minutes of cooking. Serve hot. 2-4 servings.