Do CSA shares rock? Of course they do, especially if you don't pay for them. 🙂 We've had some friends take vacations coinciding with their CSA pickup dates and we've diligently made use of their haul. This dish came about because of the desire to use the amount of produce we had accumulated in our fridge from these harvests.
These stuffed peppers and zuchini boats used our pepper and zuchini stash all in one blow. Otherwise we wouldn't have been able to realistically use all of that bulk.
The filling of ground meat is browned along with onions, seasoning, and carrots and diced peppers for color.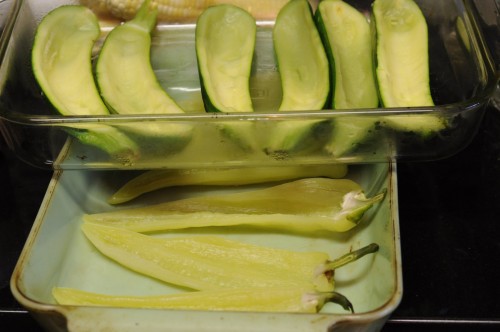 The zuchinis and peppers are halved and seeded, and then cooked in boiling water for three minutes.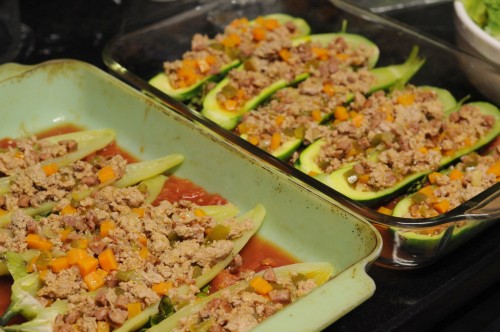 They are stuffed with the filling and placed in glass baking dishes. I ladled some crushed whole canned tomatoes onto the bottom to stew while baking.
Grated parmesan is sprinkled on top.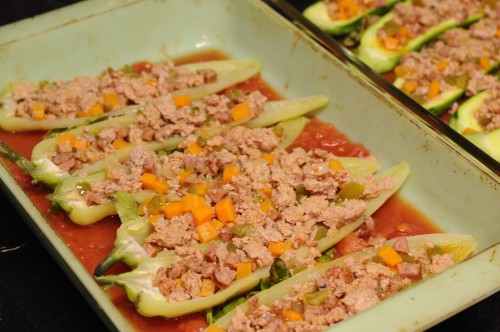 I baked it at 375C for about 30 minutes, until the tops are brown.
The resulting peppers.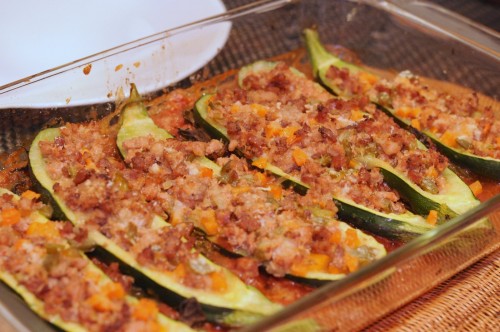 The resulting zuchini. I was so happy to discover after I made this that my friend made this too! See her post on it at My Boyfriend is Vegan.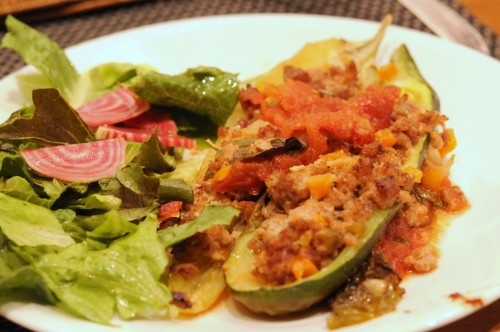 Served alongside a salad, this dish is filling and appealing to the senses. It also makes use of the surplus of zuchinis common during the summer.
Mangia!
Standard Filling Recipe
1 lb ground turkey or pork
1 whole onion, chopped
1 medium carrot, diced
1 green bell pepper, seeded and diced
Salt and pepper to taste
Brown the meat and separate into pieces with a ladle. Saute in its juices onion until soft and transparent, and then add the pepper and carrots and cook covered on low heat until carrots are soft. Season with salt, pepper, and some hot sauce if desired (I used sriracha!).
You may use this filling in stuffed peppers, zuchini boats, fried spring rolls, and the like.