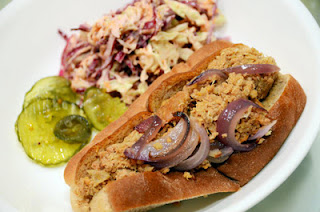 Quinoa meatloaf in a soft wheat bun, Sweet Fire pickles and peppers and homemade slaw.
(Photo by Kanako Shimura)
Great texture and flavor, and interesting recipe find.
Modified from http://allrecipes.com/Recipe/turkey-and-quinoa-meatloaf/detail.aspx
Ingredients:
3lb meatloaf mix (1lb each of pork, veal, beef)
3/4 cup uncooked quinoa (soak in hot water for 15 minutes then drain)
1 small can tomato paste, dissolved in 1 cup water
2 tbsp sriracha (or any hot sauce)
3 tsp salt
1 tsp pepper
3 eggs
1 large carrot, grated
2 onions, finely chopped
1/2 head garlic, finely chopped
3 tbsp Worcestershire sauce
Preheat the oven at 350 F. Mix all ingredients together and pack in three loaf pans. Bake at 350 for 50 minutes and cool 10 minutes before slicing. May stand alone or with a ketchup/worcestershire/sugar sauce or glaze. In sandwiches, top with caramelized onions.
(I like tasting the mix by microwaving a dollop of it in a bowl for 30 seconds to a minute and adjusting seasoning as needed).
Mangia!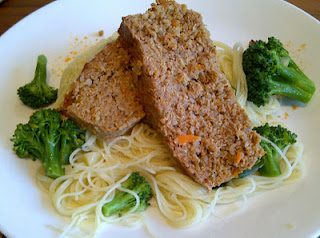 Quinoa meatloaf over truffled capellini and broccoli.