Tertulia. n. A social gathering of like-minded individuals with literary or artistic undertones, usually to showcase poetry, short stories, and other artistic expression.
There are perfect meals. Some are in New York, and even in the West Village. But not often in a casual tapas joint. Our evening at Tertulia was one of those pleasant and perfect evenings, an early dinner and a glass of wine, warm company and smiles that centered on the great food before us.
I love tapas. I've loved them since a trip to Barcelona made me fall for a hidden smoky place called Bar Rodrigo, to which I've lead a number of travelers, all of whom come back with glowing reviews about that bar that's stuck in time.
Ever since then I've longed to replicate that experience in New York, coming close food-wise at Boqueria, but not quite with the crowded and fancified seating. Upon entering Tertulia we were met with walls of weathered mirrors, just like in Bar Rodrigo, and painted signs on glass above a ham and cheese bar.
The food was fantastic, and the service was so attentive it was very impressive. We ordered a little at a time as the food was prepared quickly. Favorites included the Tosta Matrimonio and its tasty, meaty anchovies which were neither salty nor fishy, the grilled pulpo cooked perfectly in an in-house wood grill, the cojonudo's pork cheek with the added richness of quail egg. I wish we had space for more!
I'll definitely be back. I could safely say that this was one of my favorite food experiences in New York, the top for its cuisine/genre.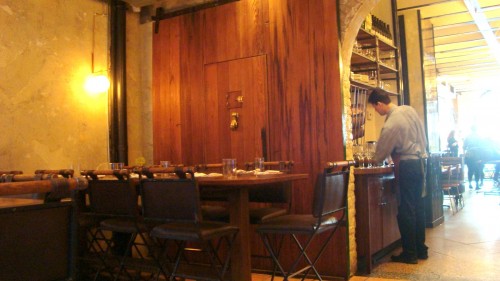 Tertulia
359 6th Ave
New York, NY 10012
(646) 559-9909