Is an ice cream sandwich too decadent? Or is that the point? Combining two rich treats together might be the reason getting a perfect match is such a challenge. A lot of them turn out too sweet and too overwhelming to eat. Bierkraft's ice cream sandwiches are gigantic, but are subtle enough for an average eater to make enough damage.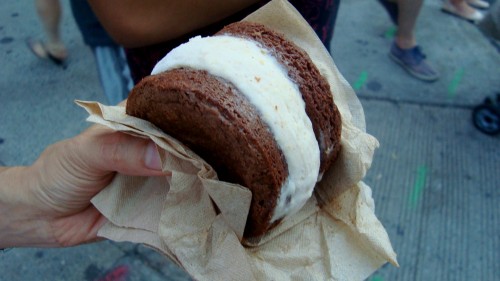 The brownie sides of this peanut butter gelato and brownie ice cream sandwich were chewy and did not crumble to the bite. Did I mention it's about as big as my hand? I recommend it be shared, either cut in half with a knife or shared bite-by-bite with a person whose cooties don't scare you.
Their website describes the brownie as being made onsite "with Michel Cluizel chocolate, Vermont Cultured butter, organic flour, organic eggs, Muscavado sugar, Madagascar vanilla, sea salt and a dash of Brown ale," the latter a fact that made me go "Aha!" about its unique brewed taste. Good enough to make NY Magazine's list of best ice cream sandwiches.
Bierkraft's sandwich varieties are: peanut butter gelato and brownie, vanilla chocolate chunk gelato on brownie, salt caramel gelato on oatmeal raisin cookie, dulce de leche on pecan brownie, and chocolate gelato on brownie. All are made with Il Laboratorio Gelato.
This treat has now officially been added to my list of passed ice cream sandwich tests, which include The Choinkwich by Big Gay Ice Cream Truck, and Coolhaus ice cream sandwiches.
Bierkraft
191 5th Avenue Brooklyn
NY 11215
(718) 230-7600