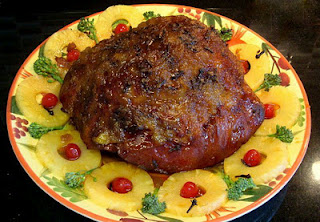 I've made a Christmas ham since my teenage years in the Philippines and continued the tradition when I moved to New York, developing my recipe to use locally available ingredients. This ham is popular among Filipinos but is a general crowd pleaser as well. It's always festive and very easy and inexpensive to make. Total cost for this is around $20.
Ingredients:
Whole smoked pork butt, sized according to one's stockpot capacity
1 big can pineapple juice
1 small 1-pound box Domino's dark brown sugar
1 big can pineapple slices
1 small can crushed pineapple
1/4 cup dried cloves
10 or so pieces Maraschino cherries
Green garnish leaves such as parsley, brocollini, etc.
Instructions:
Remove plastic packaging from ham and place in a stockpot. Set aside one cup of brown sugar. Into the pot add pineapple juice, the rest of the brown sugar, and cloves. Simmer on low heat for 1 hour. Cool and refrigerate pot with soaking ham for 1-2 days. On day of occasion, simmer pot for 1-2 hours on low heat and then set on glass baking dish. Create a mixture of crushed pineapple and brown sugar moistened with the soaking sauce and coat ham. Sprinkle more brown sugar and cloves on top and bake uncovered for 1 hour at 375F. Remove promptly and arrange in round decorative dish with pineapples, cherries, and garnish leaves (as in photo).
Sauce: Reduce soaking sauce in stock pot on medium heat until 1/2 original amount. Add sugar to taste or to thicken. Slice ham thinly and serve topped with warm sauce.
Mangia!