We arrived in the early evening at our weekend rental, and just like many upstate houses we've rented, it was in the middle of nowhere. We tried to take note of some restaurants along the way, but in reality we had settled for the idea of grabbing pizza for dinner and calling it a night. Lo and behold, the landlord's house instructions mentioned their fortune in being close to the Country Inn, and gave directions on how to get there.
From the outside it was quite intimidating, causing us to do a quick scan of the parked trucks for shotguns sticking out and NRA stickers. "Let's give this a shot, how bad can it be?" we agreed, and we parked. The bar section looked like a biker bar but the restaurant section looked decent. Along the walls they displayed their impressively wide selection of beers we were unfortunately not in the mood for that night. We ordered some food and were quite surprised.
We started with a squid and tomato salad which was delightful, followed by a brussels sprouts appetizer cooked in orange and balsamic. Both convinced us that we were not in a scary bar that only offered buffalo wings.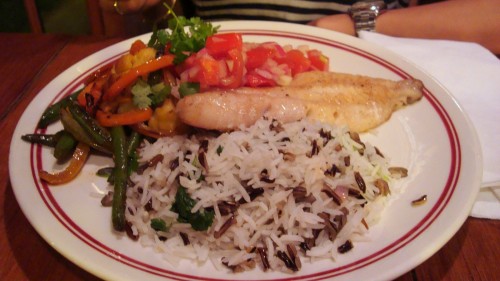 R ordered the fish special and was very pleased that the fish was not overly salted the way we've often found in even the best places. Served over wild rice, this was light and flavorful, and definitely a winner. Continue reading →