Blue Hill at Stone Barns still remains one of my most favorite dining experiences in the NYC area, even if it's actually about an hour's drive from the city. We came here once before for Blue Hill's eight-course dinner and had a great time and were inspired to try their brunch (Farmer's Lunch at $88). As always the service was thoughtful and attentive. An added bonus: upon reaching the front after your meal, your coats are ready and they know who gets which coat, and your car is up front and warmed up! The food here consistent, beautiful and impeccable. Please enjoy our revisit's documentation below:
Photos of the stone barns.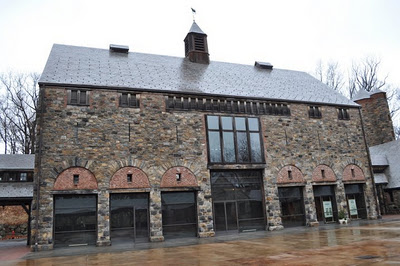 Main dining room, brunch.
Baked sweet potato and thyme leaves hanging on a steel tree.
Beet burgers on a bed of sesame seeds.
Pork rinds on a bed of nails.
Always the highlight – liver terrine and chocolate caramel.
Maple syrup soda.
Farm greens, mushrooms, radish and a crispy soft boiled egg.
Brook trout, Maine crab, endive and citrus.
Beef heart and grits.
Venison, roots and fruit.
Coffee condiments.
Port cheese beignet, bosque pear, candied chestnuts and maple syrup ice cream.
Nice farm decor.
Saying hi to my farm dog. 🙂