One of the perks of Park Slope Food Coop membership is access to their ridiculous cheese selection. Already reasonably priced, the small portion sizes allow one to sample cheeses not encountered often, such as the one below.
Sottocenere al Tartufo
is a Venetian cheese we first tried at a friend's house, one that caused us to close our eyes the moment it touched our lips. The cheese itself is mild and soft, but deeply laced with the flavor of black truffles.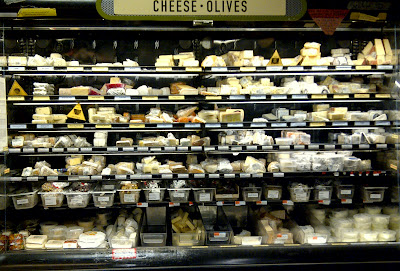 The infamous cheese selection at the Food Coop – over 100 varieties at wholesale prices.
"Sottocenere" means "under ash" for the ash rind used to coat the cheese during its aging process to preserve its quality and flavor. It worked, because as mild as the cheese is, its truffle ("al tartufo" means "with truffles") specks' flavor seems to have seeped deep into the cheese, surprising because there aren't many truffle specks that are actually visible.
The Sottocenere at the Food Coop at half the market price!
Sottocenere is made from cow's milk and is categorized under the semi-soft category, its mildness due to the short aging time (3- 4 months). Because of its delicate flavor, this cheese is best served with simple accompaniments such as the plain water crackers above, a baguette, or on its own. It's available in many other competitive markets such as
Whole Foods
and
Union Market
, and while pricey at these stores, will definitely not disappoint. Don't take my word for it, take a whiff at the store.You'll be swimming in the hypnotizing aroma of truffles that only says one thing: buy.
How about you? What is your favorite truffle presentation? Any obscure cheeses you recommend?