Everyone needs to see the elderly person running a hole-in-the-wall restaurant. It's as if their presence is an assurance of an establishment's authenticity, or the continuance of its tradition. It is evidence that things have been done there in the same way for a very long time.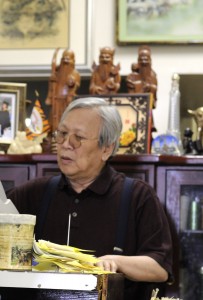 For Pho Xe Lua in Eden Center, the old man's name is Toan Nguyen, who owns the place and serves diners daily. The walls are adorned with paintings of his image, awards and graduation photos of his daughter, much like many family-operated restaurants serve as the owner's second home.
Our Vietnamese friend has always been convinced that New York pho sucks, so I've always been curious to try pho elsewhere since I've only had it in the city.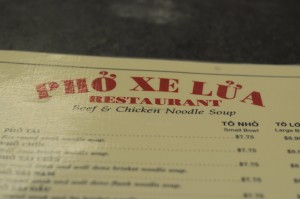 I ordered the raw beef and tendon pho and created my usual dipping sauce of lime, hoisin and sriracha, and ate. The broth definitely tasted like it had been cooking for a long time, as it had imbibed the flavors of beef bone, burnt onion, and various herbs; and did not taste like beef bouillon or MSG like I've had in some places.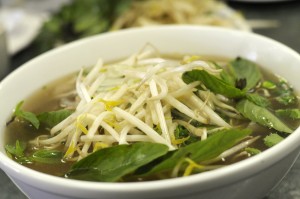 The restaurant is a very homey no-frills pho place with a limited menu (just pho and drinks). Other diners have reported that Toan's gentlemen friends often stop by for a game of checkers in the early afternoons, a sight I would have loved to be present for.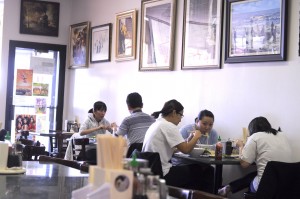 "Is it better than New York? Is it better than New York?"  Our friend kept asking.  While I retain loyalty for my regular PHO-natic joints Nicky's and Nha Trang, Pho Xe Lua is definitely a pho of superior quality and an eye opener of an experience. I actually tried not to like it too much 🙂 because Falls Church is quite a hike for good soup, though I'm never one to complain about trekking far for a culinary experience.
Pho Xe Lua – Eden Center
6765-A Wilson Blvd
Falls Church, VA 22044
(703) 533-3130