On four warm mornings in the late summer of 2009, we woke up and had breakfast with the view of the Caldera, the islands formed by the volcanic rock in the Agean Sea which comprise the stunning views off the cliffs of Thira/Santorini, Greece.
We stayed at the Esperas Hotel, a 16 room resort with units carved out of the mountain. In the mornings we would leisurely sit around for an extended breakfast (buffet, included in room rate) of toast, meats, fruit and yogurt, and then either lay out by their pool or find a beach for the day.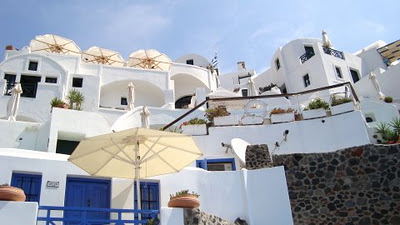 The late afternoons would be spent by the cliffside tavernas by the coast, feasting on octopus, seafood pastas, hummus and tzatziki.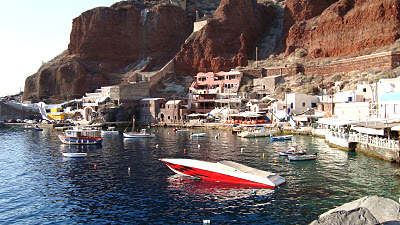 We'll definitely be back.
More on Greece:
Alternative Views
Babulas Taverna in Mykonos
Kiki's Taverna at Agios Sostis
A Mykonos Meow: Photo Essay
The Daily Applause at Oia
No Name Taverna Delights, Santorini & Mykonos
Mykonos and the Taverna at Agios Sostis
Oia: The Taverna at the Bottom of the Cliff