For the more adventurous traveler to Mykonos, Greece, the barren strip of Agios Sostis might be more ideal, with its silence and B.Y.O. nature seeming more genuine than the 8-Euro umbrella rentals and surrounding internet cafes of its more famous counterparts. On a summer day as you are scorching from inadequate shade, an old man peddling homemade pastries will try to sell you some, and you'll regret not taking him up on his offer as soon as he leaves.
There is only one source of food and refreshments bathrooms in the whole of Agios Sostis, and that is the infamous Kiki's Taverna, where the line is long but you can drown your impatience in a dented copper-plated pitcher of white wine, handed to you with a couple of shot glasses whose authentic feel matches only the Greek chatter of locals waiting for their turn to be seated.
On that afternoon we were sitting on wooden chairs lined up outside the taverna along with several other parties who seemed to know the deal there at Kiki's, so we just followed suit. Our Greek friend had recommended the taverna and we had started to drink the wine from the copper pitcher when she struck up a conversation with a single mother holding a place in line for her son, a friend and her daughter. We raised a glass to each other and shared squash seeds we had saved from our ferry ride to the island.
Inside as we got seated, the lady introduced us to her friend, the epitome of classic Greek goddess beauty if there ever was one. Suffice it to say our jaws dropped and we spent the rest of the meal elbowing each other because of the eye candy. To repay the graciousness they bought us dessert, and we toasted to our meeting, exchanged numbers, smiles, promised each other we'd write…
The food at Kiki's Taverna is everything you would expect from a secluded, popular and secretive hole-in-the wall without even a sign or electricity. Food is served fresh and fast off a grill you can stand before and choose the fish of your liking. There was definitely nothing to be desired after a salad with the sweetest and juiciest tomatoes, artichokes, porkchops, and octopus.
Greek…errr…garden salad…should I tell you about Greek tomatoes*?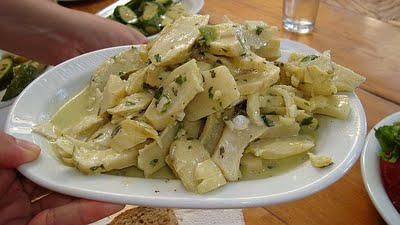 Artichokes in Olive Oil
Grilled Porkchop
Grilled Octopus
After our meal we were taught about the Greek ritual of telling fortunes based on the coffee sediment left at the bottom of one's cup. Our new friends from the line bought us dessert to return the gesture of the pumpkin seeds we offered while we waited. "I will visit you in New York!" is such a common thing we hear when we travel, and people almost never follow through (and we rarely want them to). What we did want to take with us was that meal, its warmth and the experience of copper pitchers, wooden tables, and waddling out of a nameless taverna to jump in clear saltwater and wade any remaining worries away.
An old church on top of a hill at Agios Sostis
A basin with calm water where we took a freezing post-lunch dip.
* Our Greek hostess said that only three things can be grown in most Greek islands: grapes, olives and tomatoes. The tomatoes are supposedly from a hybrid strain orginating from Egypt and require no watering – it gets its water (and all its flavor!) from the air and the soil. I couldn't find any reference to these Egyptian strains but did find a lot of information glorifying Santorini's grape tomatoes for being very flavorful, sweet and not requiring a lot of watering.
More on Greece:
Alternative Views
Babulas Taverna in Mykonos
Kiki's Taverna at Agios Sostis
A Mykonos Meow: Photo Essay
The Daily Applause at Oia
No Name Taverna Delights, Santorini & Mykonos
Mykonos and the Taverna at Agios Sostis
Oia: The Taverna at the Bottom of the Cliff