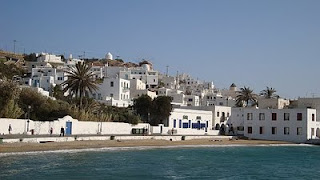 The Greek island of Mykonos is unlike its beautiful and mysterious sister Santorini, in that it's actually the popular and sociable sister with her own charms and hidden gems. If Santorini is known for its magnificent views and sunsets (soundtrack: Enya), three hours away by high-speed ferry is Mykonos, hopping like an Ibiza party scene, club music blaring from beer-sticky speakers behind half-naked, gym-chiseled pretty boys on X.
Mykonos is a diverse scene of gourmet restaurants and shops, and appears to be the fashion hub in Greece with American and European designers selling wares throughout the whitewashed maze of alleyways of the town. They decorate their ambience with
comfortable outdoor daybeds
which lures the customers to their commercial setup. At night the gay boys fill the streets with their tight shiny clothing and strong colognes. Monstrous cruise ships line the shore and fill boats with party-goers headed to the island for some fun before the ships head to their next destination after midnight, long before the booming club music finally stops at dawn.
Needless to say it's not a world wonder but Mykonos' popularity as a gay Mecca and a party place has its advantages. It's probably the most tolerant of the islands as it is more exposed to tourists, particularly Americans and their burger cravings as well as the various drawls of the English language accompanied by less-appealing swaggers. The masses of gay men who cruise in Mykonos have made hotels gay-friendly by default, a feat that would be difficult to accomplish in discriminating Santorini, where good accommodations are few, expensive and sparse – not really conjucive for partying but more for endless staring into the Calderra and/or a romantic partner's eyes.
There's more to the island than clubs and shopping though, as it has its own share of decent beaches on the predominantly flat land. The more popular Paradise and Super Paradise beaches are there with their lined up beach chairs and palm umbrellas. The cafeteria-style dining isn't bad at all, but for the more adventurous traveler the barren strip of Agios Sostis might be more ideal, with its silence and B.Y.O. nature seeming more genuine than the 8-Euro umbrella rentals and surrounding internet cafes of its more famous counterparts. On a summer day as you are scorching from inadequate shade, an old man peddling homemade pastries will try to sell you some, and you'll regret not taking him up on his offer as soon as he leaves.
There is only one source of food and refreshments bathrooms in the whole of Agios Sostis, and that is the infamous Kiki's Taverna, where the line is long but you can drown your impatience in a dented copper-plated pitcher of white wine, handed to you with a couple of shot glasses whose authentic feel matches only the Greek chatter of locals waiting for their turn to be seated.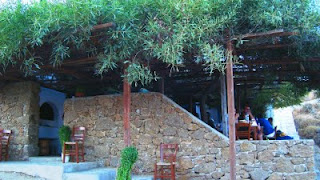 On that afternoon we were sitting on wooden chairs lined up outside the taverna along with several other parties who seemed to know the deal there at Kiki's, so we just followed suit. Our Greek friend had recommended the taverna and we had started to drink the wine from the copper pitcher when she struck up a conversation with a single mother holding a place in line for her son, a friend and her daughter. We raised a glass to each other and shared squash seeds we had saved from our ferry ride to the island.
Inside as we got seated, the lady introduced us to her friend, the epitome of classic Greek goddess beauty if there ever was one. Suffice it to say our jaws dropped and we spent the rest of the meal elbowing each other because of the eye candy. To repay the graciousness they bought us dessert, and we toasted to our meeting, exchanged numbers, smiles, promised each other we'd write…
An old church on top of a hill at Agios Sostis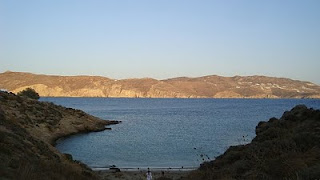 A basin with calm water where we took a freezing post-lunch dip.
More on Greece: