Is it snooty to be distrustful of people's tastes in food when they live in small towns? This might be the snobby New Yorker in me talking, but tell me that's not what New York does to its inhabitants. We are spoiled with the most diverse array of cuisines and such a high concentration of food establishments that intense competition quickly weeds out inferior ones within a few months of opening.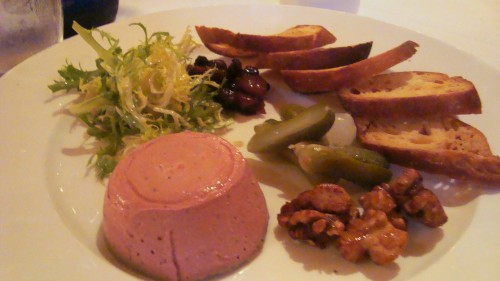 That doesn't mean I am not proven wrong every so often. Our excursions to Sweet Sue's in Phoenicia and The Country Inn in Olivebridge both originated from a local's recommendation. We found Red Onion online, and though we were wary about its fine dining reputation, we were quickly reassured by Brooklyn friends who had a house up there that we couldn't go wrong with Red Onion. Good.
The evening began with the resolve to go to town, after all, this was our honeymoon weekend(!). A dinner salad of rocket lettuce and prosciutto started our evening nicely, along with other splurge appetizers liver pate and Italian calamari. We were stuffed by the time we were done with our starters, but I am still thinking about the pate's side of candied walnuts and figs. Sometimes food combinations are dreams.
The staff was attentive and gracious, and they seemed to be all around us. We figured this must be one of the nicer places to work in this town. The team seemed very happy to be there, and not because of the interesting history that this building used to be a 19th century bordello.
The lamb chops were juicy, tender and cooked to a perfect medium. Did I mention they were large? They did not mess around when they said double-cut. It made the meat-lover in me smile. And it wasn't even my dish!
My dish was the squid ink pasta, whose noodles were soaked black with flavor that was accentuated by the capers and shrimp. Now these are the kinds of dishes you enjoy so much in restaurants you don't bother making them at home. For this joyful discovery, Red Onion gets a score of YUM!
Red Onion Restaurant
1654 New York 212
Saugerties, NY 12477
(845) 679-1223