I'm not a sucker for sweets. That's my story and I'm sticking to it, even if this blog is full of dessert posts. But the truth is that I don't seek out cakes, pastries and pies, and I would be as happy with fruit after a meal. Dessert I feel is a moment to share as a separate meal sharing a slice with tea and conversation, or as a second destination after a restaurant meal. Anyway, where was I? (Lost in sugary lies!)
Oh yes, warm apple cider donuts. From Soons Orchard, these are about the best donuts I've ever had. Ever. Would I lie to you? Maybe for a donut.
At 31 cents apiece, they're not bad! They have them with brown or powdered sugar. I prefer them as a classic brown, and freshly made from the Soon's country store.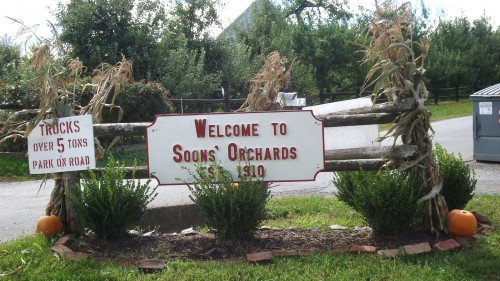 This 102 year old family orchard is one of New York's gems. Close enough to the city for some urbanites to get some country time and pick their own apples, the orchard has become more popular over the years that now they have employees assigned to guard the orchards along with a number of posted rules. It really is such a novelty for city folk who are used to their apples coming from supermarket shelves, uniform in color, perfect in appearance, and thoroughly waxed and shined. Soons brings it back to nature with rows of orchards and rotten apples underfoot along with the insects they attract.
There is definitely something endearing about an apple with its stem and leaves still attached. You never see this in the grocery store, which over-processed apples are the norm.
Did we get about 20 pounds of apples? What to do with them?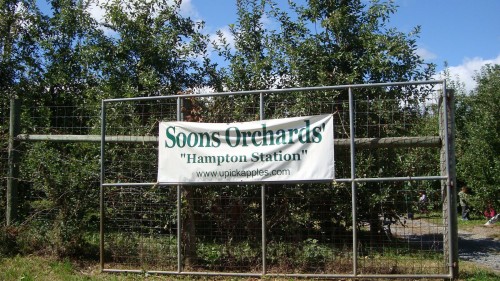 The bag of warm donuts filled the air with their sweet and cinnamon aroma.
Soft, not too sweet nor greasy, and made with 100% love. I love you, Soons apple cider donuts! The best part is that they can be stored refrigerated and then warmed in the microwave for 12 seconds and they're back to their original form.
Love!
Soons Orchards
23 Soons Circle New Hampton, NY 10958
(845) 374-5471