The thing about living in restaurant-dense area is that you begin to respond to the mention of food items with restaurant names. Fried oysters and Bloody Marys? Stone Park. Dollar oysters? Cornelius. Banana Split? Chocolate Room. Gelato? Brooklyn Larder. Ice Cream? Ample Hill. Paella? Blue Ribbon. Italian? Al di La. Burger? Bonnie's Grill.
As far as burgers, Bonnie's Grill definitely takes the cake in giving an authentic char-grilled experience that you will immediately taste in your first bite. This small joint gets crowded with fans eager for a burger or their equally-acclaimed wings in a no-frills business that is all about the task at hand: food.
A starter of wings (Do not get them "hot" unless you have a death wish, "medium" is plenty hot for a spice lover like me. Don't say you weren't warned!) well deserving of their multiple awards will remind you what Buffalo Wings are supposed to taste like. Crispy and crunchy on the outside, lathered with hot wing sauce, juicy and tender inside. Our companions for the evening ordered one large plate each.
The burgers (here served with everything on it) should teach the surrounding restaurants how its really done, with big juicy handmade patties and their homemade spice rub and cheese melted on top using an upside-down steel bowl. One burger is big enough to share between two hungry women along with its side of fries (or choice of salad).
A small order of eight wings to share. Having close access to these wings makes it nearly impossible to order Buffalo Wings anywhere else without fear of disappointment.
Simple decor and brick walls bring it all back to Brooklyn.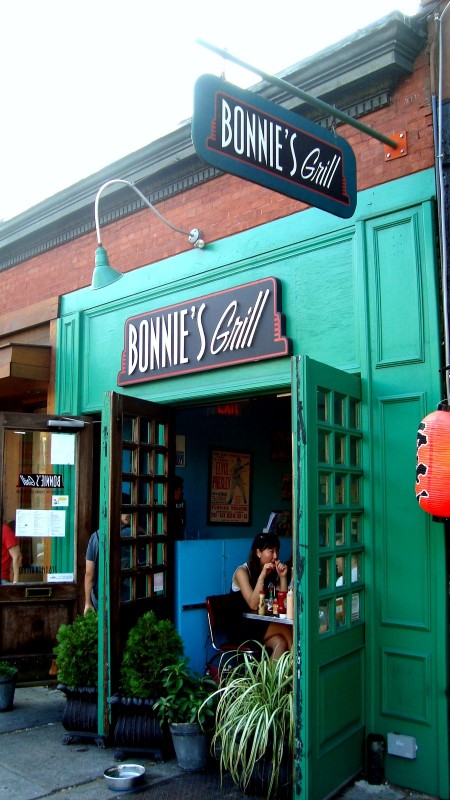 Bonnie's Grill is Park Slope's burger and wings gem.
Bonnie's Grill
278 5th Avenue NY 11215
(718) 369-9527